INTRODUCING MICROSOFT TEAMS – A NEW WAY TO COLLABORATE.
When it comes to improving communication and collaboration, businesses are always looking for a better way. Microsoft Office 365 offers a wide range of collaborative tools on top of the already powerful Office application suite such as OneNote, Skype for Business, Yammer and Sharepoint.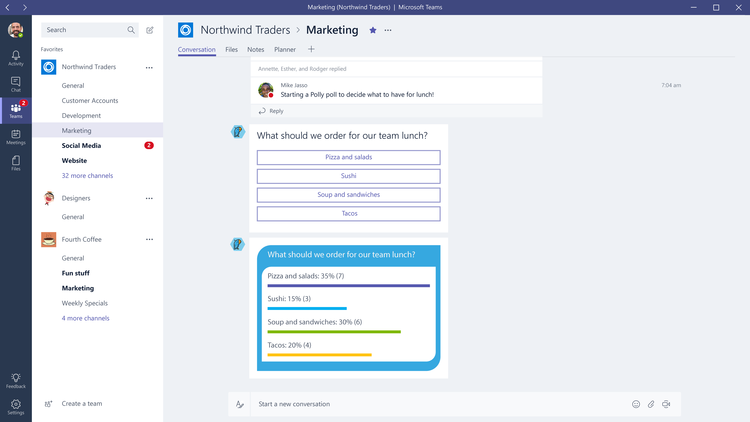 To tie everything together Microsoft has released Microsoft Teams for Office 365 Enterprise and Business plans. Microsoft Teams is a new chat-based workspace that integrates the whole software suite to help your team work together. Microsoft Teams in an entirely new experience that brings together people, conversations and content – along with the tools that teams need – so they can easily collaborate to achieve more.
Microsoft Teams is primarily a chat-based tool for collaboration that allows teams to communicate in open and persistent way. Threads can be created and customised for specific projects or teams, plus there is the ability for private discussions. The conversation view includes the ability to drop meetings straight into chat, alongside files, notes and project boards.
As Microsoft Teams is integrated with Office 365 it is the perfect platform for sharing files and updates without relying on email. Word, Excel, PowerPoint, OneNote, Planner, Power BI and Delve are all built into Microsoft Teams so people have all the information and tools they need at their fingertips. Third-party apps such as Twitter, Github, and eventually Zendesk can also be integrated into Microsoft Teams.
Microsoft Teams is available now for Office 365 Enterprise and Business subscribers. If you're interested in a demonstration or more information to see how Microsoft Teams can work for your business, contact the team at Commandacom.
Meet Microsoft Teams, the new chat-based workspace in Office 365.
---
FOR MORE INFORMATION OR PRICING PLEASE COMPLETE BELOW FORM