NEW PANASONIC INTUITIVE IP PHONES.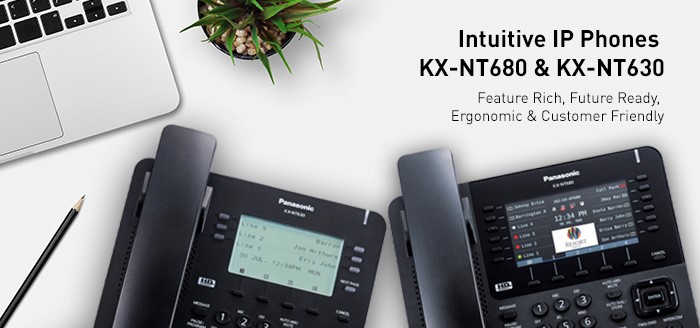 We are excited to introduce the latest additions to the Panasonic range of IP handsets. The KX-NT680 and KX-NT630 are available for purchase and are compatible with our NS and NSX Series phone systems. The new IP phones offer intuitive communications and added functionalities to help you do more now and in the future.
Visible information when you need it.
Making all information visible at a glance is never easy. By using the highly intuitive colour LCD screen, every detail is clearly visible in full colour or visual icons.
Customisation.
With the KX-NT680, corporate branding or information can be easily displayed across the organisation through customising the LCD screen by simply importing a file.
Secure Real-Time Transport Protocol (SRTP).
IP communications are becoming more susceptible to cyber attacks. By supporting SRTP, we encrypt our communication packets to create a secure communication channel.
Centralised Management.
Embedded centralised management and remote admin features allow any new or change in settings to be easily transmitted by the network and adjusted remotely.
To learn more about KX-NT680, click here. To learn more about KX-NT630, click here.
If you have any questions or would like to request a demo, please contact us on 08 9473 7000.