Cloud-delivered Unified Communications provide a platform for companies to communicate via voice, video, email, messaging, and file sharing with staff and customers over devices including; desk phones, mobiles, desktops, laptops, and tablets.
Work the way you want from anywhere
UC-One delivers a unified experience for end user communication and collaboration in the office and on the road. UC-One combines secure instant messaging and presence, desk and mobile voice communication, video calling, and desktop collaboration into a single application interface that is available any device.
The challenge for businesses looking to deploy UC is to integrate these multiple communication methods, equipment, and software into a seamless user experience while keeping capital expenditures and administration under control. Commandacom solves this challenge by offering multiple, fully-integrated UC options.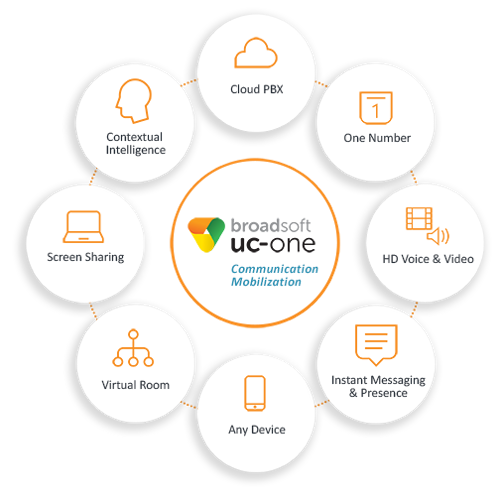 UC-ONE KEEPS YOU CONNECTED TO EVERYONE AND EVERYTHING
Why Use Commandacom to deliver UC-One?
Technology is moving fast and so are your employees. Collaboration tools such as mobile phones, instant messaging, video calling, and screen sharing can bring employees, partners, and customers together. But, with so many different applications and platforms, delivering a true unified communications experience can be challenging...until now.
UC-One delivers on the promise of corporate unified communications by providing the productivity-enhancing features your employees need in a consistent and secure environment, across platforms, to any location.
Commandacom is known to only deliver superior proven communication solutions and UC-One tops that list.
Desk phones available with UC-One
Want More Information?
Commandacom ensures all our offerings are superior business communication and have the capabilities to improve business efficiency. To learn more about how switching to Commandacom's Unified Communications Solution, fill out this form and one of our solution specialists will contact you.